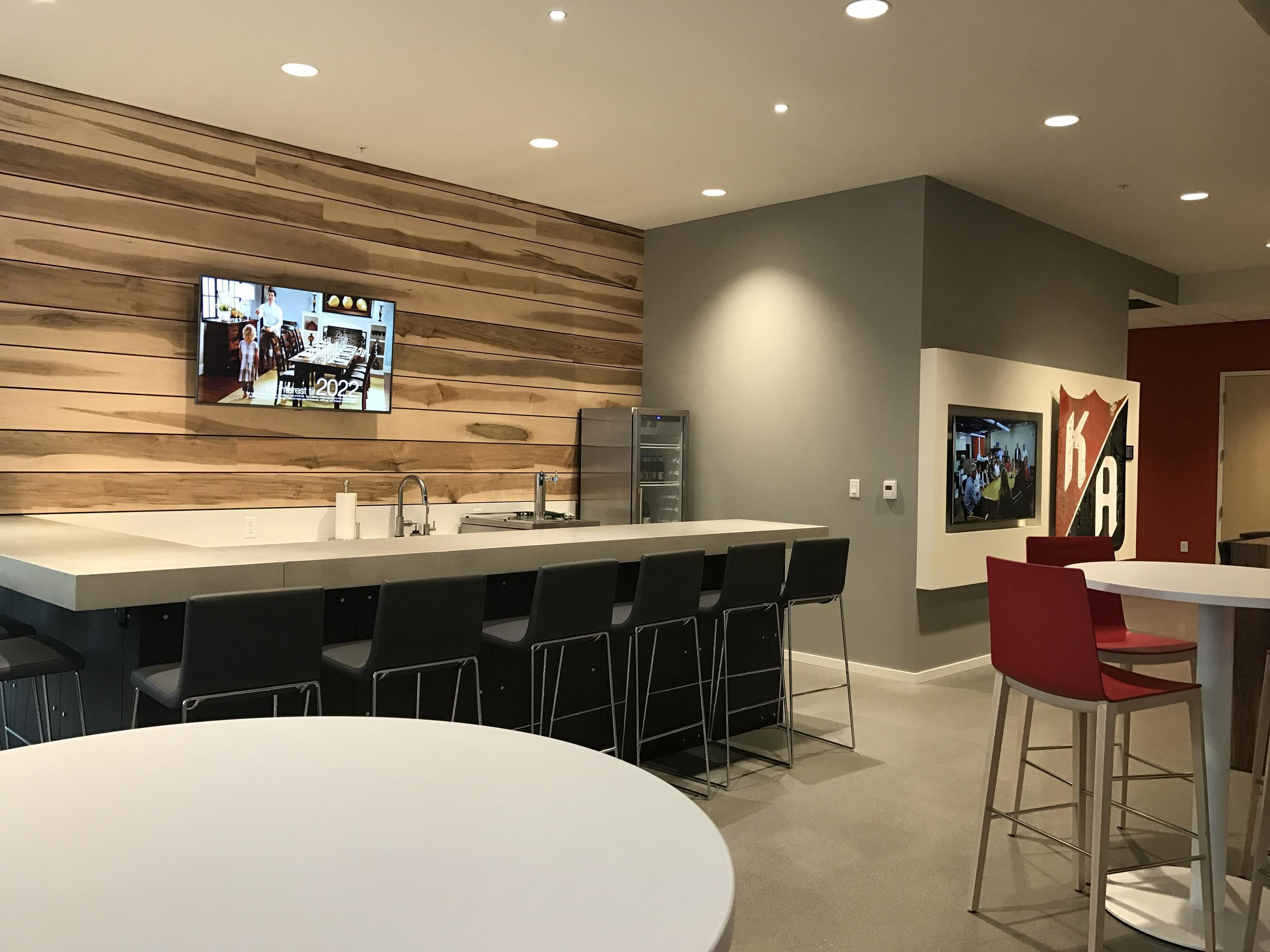 Commercial Audio/Video Installation
Cutting edge A/V makes powerful first impressions and inspires greater collaboration.
Welcome to a workplace that works.
Experience next-generation technology streamlined and simplified so your brilliant teams don't miss a beat. Bad audio and grainy video on conference calls? Cables and cords disrupting meeting flow? We'll meet with you to determine where we can enrich your operations with intuitive systems for collaboration and communication.
Show your guests and clients your best side with sleek audio-visual features in waiting rooms and entry spaces. Digital signage and video walls get your message across and convey important information throughout your building.
Other audio-visual installation companies toss you in the deep end with limited training for complex technology. We simplify your operational needs into easy-to-use systems and provide comprehensive training for a seamless transition into a more functional workplace.
Solutions We Offer
Projector/TV Installation
Get the screens that suit your style. ECSI's quality technicians can do it all, from providing simple TV and projector installation services to engineering state-of-the-art smart auditoriums that WOW.
Digital Signage
Send a message that sticks with easy to use digital signage for your waiting rooms, entryways and office spaces. Get important information where it needs to be so your staff and customers will never miss the memo.
Video Conferencing
Make the world a little smaller with cutting-edge remote communication. Take your video conferences and online meetings beyond built-in laptop cameras for an enhanced experience on Skype, GoToMeeting and other interface applications.
Video Walls
Video walls can truly do it all. Keep guests and staff up to date with video menus, advertisements, displays and slideshows. Our systems experts design seamless displays for a range of screen sizes, resolutions and technologies.
Sound Systems
Resonant spaces like conference rooms, gymnasiums and restaurant dining areas have complex audio needs. Our expert sound systems installers ensure clear, robust sound from state-of-the-art mounted, hidden, or portable speakers.
Control Systems
Imagine walking into a conference room that activates lights, monitors and other features without touching anything. ECSI supplies diverse control panel options for rooms that run just the way you want them to.
It's time to step into a workplace that works. Contact ECSI Systems Integrators today to discuss how we can design and install an audio-visual system for your commercial needs.